Pasta-uncutation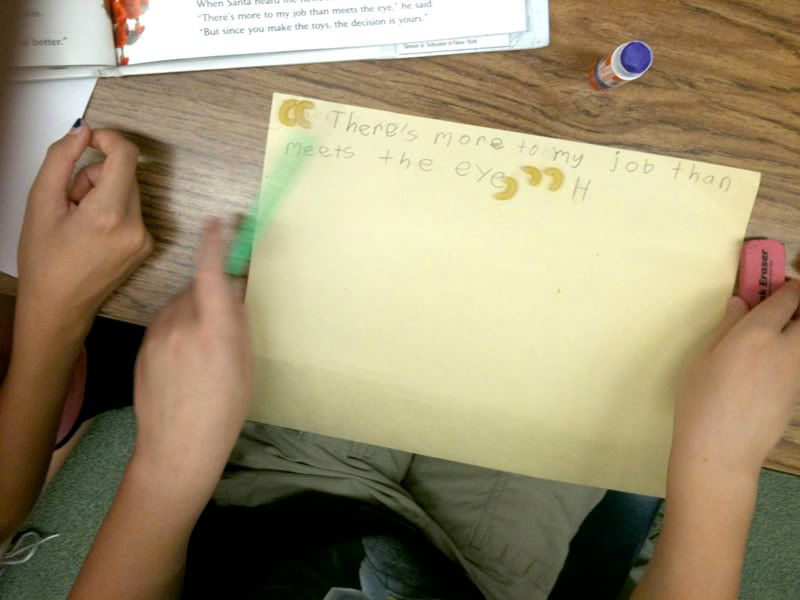 click for larger
The Macaroni Neclace
by Todd-Michael St. Pierre
From the book
A Woolly Mammoth on Amelia Street: Read Aloud Poems4Kids
Lynzie Anne Mc Kenzie was a very creative girl,
She made a macaroni necklace for her teacher Mrs. Pearl.
'It's the dumbest gift I've seen!' Laughed little Tony Maloney, 'Nobody wants a necklace made from macaroni! '
'Stupider than Jupiter' said Tony with a smirk.
But Lynzie just ignored him cause she knew he was a jerk.
Oh Mrs. Pearl just loved it and she wore it every day,
Then she bought a matching bracelet and earrings in late May.
Soon people came from miles around to buy what Lynzie made,
'A fashion craze invented by a girl in the first grade! '
She sold three to Oprah and after the show was done,
She sold one to Madonna to wear on VH1.
She sold a broach to The Queen and a pendant to Vanna White,
Who wore it as she waved and smiled on TV every night.
From Timbuktu to Waterloo from what I understand...
Folks bought oodles of her noodles, her work was in DEMAND!
Featured on the shopping channel they sold out the first day.
Lynzie Mc Kenzie started a frenzy; what else can I say?
'Stupider than Jupiter, ' Tony's words were dumb and reckless,
But Lynzie had the last laugh with her macaroni necklace!