Andi has abdicated Sundays so I'm taking them over. Here are a couple of pictures and a poem.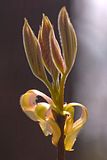 Unfolding Bud
One is amazed
By a water-lily bud
Unfolding
With each passing day,
Taking a richer color
And new dimensions
One is not amazed,
At a first glance,
By a poem,
Which is as tight-closed
As a tiny bud.
Yet one is surprised
To see the poem
Gradually unfolding,
Revealing its rich inner self
As one reads it
Again
And over again.
-- Naoshi Koriyama